Amman: Opening Workshop on "Facing Challenges and Defining Strategies in Local Prosecutions of Violations"
Amman,
Thursday, January 12, 2023
Today, Thursday, a workshop was opened in the Jordanian capital, Amman, on "Facing Challenges and Defining Strategies in Local Prosecutions of International Humanitarian Law and International Human Rights Law Violations", as part of the program to support the National Commission to Investigate Alleged Violations to Human Rights (NCIAVHR). The workshop was implemented by the International Center for Transitional Justice and funded by the Dutch Ministry of Foreign Affairs.
The opening speeches, delivered by His Excellency the Minister of Justice Judge Badr Al-Ardah, the Attorney General of the Republic Judge Fawzi Saif, the Vice-Chairman of the National Commission Judge Hussein Al-Mashdali, the Executive Director of the International Center for Transitional Justice Anna Miriam, and the Director of the Yemen Program at the International Center Nour Al-Bajjani, emphasized the importance of promoting human rights in Yemen and the beginning of trials through a specialized and qualified judiciary, and continuing support of the efforts of the National Commission and its endeavors to achieve accountability and redress for the victims.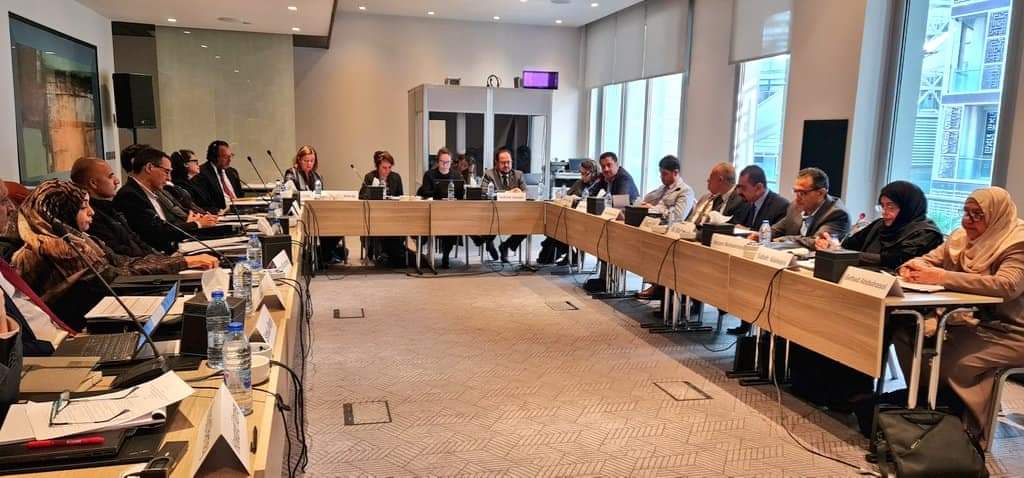 In her speech, the Deputy Ambassador of the Kingdom of the Netherlands to Yemen, Marika Werda, appreciated the Commission's efforts during 7 years in fully documenting the violations and reaching the victims, noting the importance of supporting all means that would achieve a just and comprehensive peace in Yemen. Ms. Werda added that achieving justice and documenting the violations are among the priorities of the Kingdom of the Netherlands. She also stressed the continuation of supporting the National Commission and its efforts to document violations in Yemen, given its active role of great importance.
The workshop, in which members of the National Commission, the head of the Judicial Inspection Authority, and representatives of the judicial authority participate and will last for three days, addresses the most important challenges faced by the judiciary and the National Commission in the field of achieving transitional justice and discusses accountability mechanisms, litigation and prosecution strategies, and ways to provide accountability in justice processes. transitional issues, in addition to issues of preparing litigation files related to arbitrary detention, death, and torture during detention, the type of evidence to be collected and how to present it, and the inclusion of international crimes in domestic indictments.